HOMES & VILLAS FOR SALE IN LOS CABOS
Looking to purchase a vacation or retirement home in Cabo San Lucas? Or, perhaps you like the quieter side of Baja and prefer a villa in San Jose del Cabo or Los Barriles in the East Cape region of Southern Baja, Mexico. Maybe you already own a residence and are ready to move up to a larger home or villa but need to sell your house first? Whether you're a buyer or seller, you've come to the right place. Cabo-Homes is a specialized division of Baja International Realty that focuses on providing personal and professional real estate representation for home buyers, sellers and developers. Our focus gives us the ability to accurately represent current markets and successfully assist in negotiating home and villa sales or purchases. With decades of hands-on experience in Los Cabos real estate, we have the skills and knowledge that allow you to buy or sell property with confidence.
NEW MOBILE FRIENDLY CABO REAL ESTATE WEBSITE
If you're serious about buying or selling a house in Cabo, then you'll want to keep informed about what's happening in the marketplace. Since we specialize in private residence properties, we have the latest news on all the available homes and villas listed for sale, exciting new real estate developments coming to market and the most recent sales prices. SIGN UP and we'll email you with the latest residential real estate news.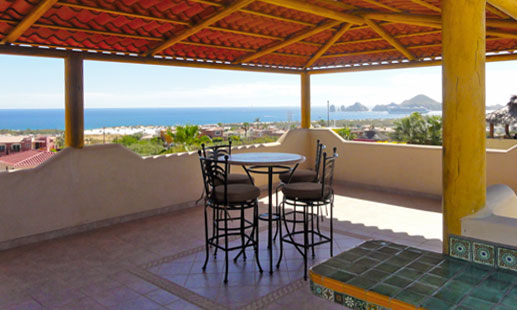 INCREDIBLE VALUE FOR THE MONEY!
Seeing is believing. We can tell you this 5 bedroom 6 bathroom with separate casita, 2 plus car garage, bodega, boat /RV storage with hook ups, fish cleaning area and killer ocean/arch views is the deal of the century, but you need to see it for yourself. A dream chefs kitchen with easy slide out shelves, updated appliances, large wine cooler, and storage galore is just the tip of the iceberg.

Attention to detail is evident in every area of this place. Comes completely turnkey and I know you have heard that before but REALLY everything is move in ready. Priced below replacement cost for this 5340 sq. ft. home and a deal at 525,000 usd. An optional lot behind the house is also for sale to protect the ground floor views.
All this in a quiet friendly neighborhood with large lots, walking trails, and just minutes to downtown AND NO HOA FEES!!
There are so many features and benefits, so CONTACT LISA lisa@bircabo.com for a detailed list OR CALL CELL. From the US/Canada 011 521 624 147 0514. MLS #15-395

Real Estate markets are constantly changing, and the Los Cabos home market is no different. Property values change often so staying on top of what's currently happening is of parmount importance. Not knowing the ins and outs of current market conditions can cost you thousands of dollars when buying or selling residential properties here in Cabo San Lucas. Cabo-Homes is dedicated to keeping abreast of market changes and can help you make the most of your transactions.

If you're looking to purchase a house or villa, we suggest you engage us as a 'Buyer Agent' and let us assist you in locating the perfect property. Simply click here to submit your wants and needs and we'll be in touch.

If you're looking to sell your property, we're well equipped to handle listing your residence for sale at the best possible market price, one that nets you the most money at closing without selling below market value. For a free property valuation, click here.
NEW!!
EL CIELITO VIEW VILLAS
2,215 - 6,372 SF of Luxury Living Space With Ocean/City/Land's End Views
Architecture by Prospero Tapia, nothing but high-end materials including extensive exotic stone and marble, dark hardwoods and what may just be the best possible views in the Cabo San Lucas area make this a must see residential development. Located in Rancho Paraiso Heights you get 24 hour guard-gated security, low-density development plan and excellent value all within a few minutes drive of downtown Cabo and the marina. New ownership is motivated to move the remaining 18 of 22 total villas and has cut sales prices by as much as 25% off original offering. All villas come with private, large 2 car garages, plunge or infinity pools (depending on model) or private garden areas. Adjacent parcels are reserved for custom homes and open space keeping this area unspoiled and uncrowded. Prices start at $399,000.

CLICK HERE FOR MORE INFORMATION AND PHOTOS
---
5,200sf with a guest casita in the San Jose del Cabo corridor area

No other home in Querencia of this size enjoys such expansive water views and privacy. With upper and lower street entrances, the upper area dubbed "the park" has space for meditational gardens and party cabanas. This villa is all about the views. Unobstructed views of the Sea of Cortez from above famed the famed Palmilla resort and residential development are endless. Watch the sport fishing fleets work the fish-rich waters just off the coast or turn your gaze to the surfers found at Zippers... arguably the best surf beach in Los Cabos and scene of many international surfing competitions. Couple the estate with the amenities of Querencia, the most exclusive private golf community in Cabo, and you have the makings of a truly unique and prestigious vacation or retirement home.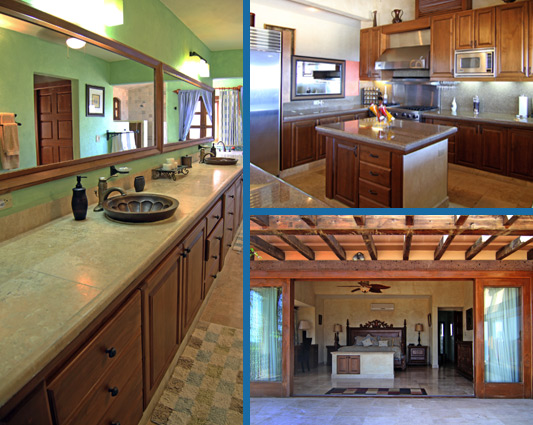 The property has a good vacation rental history manager, gardener and maintenance staff. The garage houses golf cart and motor scooters plus two cars. A carport area accommodates three guest vehicles. The home is fully furnished… all you need are your personal touches, suitcase, jammies and toothbrush!
MORE INFORMATION ABOUT THIS LUXURY CABO ESTATE HOME